Cerca in Limen

Vincolati D. L. 490/99
Beni Venduti 2004
Beni Venduti 2005
Aste
Categorie
ASL
Bologna
Palazzo Dogana BA
Case B. Reno FE
Castello Orsini VT
S.P. Capestrano AQ
Forte S. Giacomo LI
S. Vittore Mi
* S. Paolo FE
* Via Leardi AL
* P.zza Risorg. FR
* P.zza Fontana TO
* Via del Fante VR
* Via Castello RM
* Via S. Cosma NA
* P.zza S.Marco LT
Military barracks
Gnutti BS
De Cristoforis CO
Monte Oliveto FI
Forte S. Sofia Vr
Torrione F. Gaeta Lt
C. De Amicis AQ
C. Gorini Capua
Forte Bramapane SP
C. Pilade Falciano
P.zzo P. Sacrati FE
Torre Mattarelle BR
Isola S. Andrea LE
P.zza d'Armi Spoleto
Ex Forte Pepe VE
C. XXII Marzo BL
C. Micca Colombo TV
National institutions
Palazzo D'Avossa SA
San Teonisto TV
Palazzo Forti VR
Conv. S.M. Angeli FI
Liceo Sigonio MO
Via A. Aradan 10 RM
Coasts, Streets
Lungomare N.S. BA
Golfo Aranci SS
Giannutri GR
Cerboli LI
Pianosa LI
* Isola Umb. I. MN
Printing Services
Zecca P.zza Verdi RM
M. tabacchi
Milano
Modena
Palermo
Tortona
Archaeological sites
Alba Fucens AQ
Cosilinum CZ
Villa Jovis NA
* Via Appia Nuova RM
Comuni
Verona VR
Regions
Toscana VR
Sicilia CT
Map 2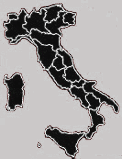 Abruzzo
Basilicata
Calabria
Liguria
Lombardia
Marche
Molise
Piemonte
Puglia
Sardegna
Sicilia
Trentino
Umbria
Valle d'Aosta
Headings
Related articles

Italian sales comes the list: published the first installment of state of the heritage census from here you will be chosen ones to be privatized islands, palaces and coasts. The Official Journal indicates for each well the 'historic' value in euro (La repubblica del 21/08/2002)
"Islands, beaches, entire towns, villages, districts, neighborhoods, buildings, prisons. For each of these assets, a cadastral address and price. The first part of the general census of the assets available and unavailable state is the Official Gazette of August 6 last year: eight hundred pages in which the 'State Property agency makes a preliminary list from which will be chosen the goods that the state can offer for sale. Pianosa Island? 8 million euro. A beach of 'Elba? Just under five million. also appear the first precious pieces of heritage. Fine manner of speaking, because Villa Jovis, residence of 'Emperor Tiberius in Capri, applies to the State just 90,000 Euros. Fortunately, explain to the State, not all the items remaining in 'list can end up actually on the market. For the moment we are only at 'general inventory. And the ratings are not realistic, but rescaled to old cadastral values ​​updated by the Istat indices. This, still say the makers of the State Property, causes many goods appear with an assessment which can be up to ten times less than the real market value. It will remain the minister Tremonti choose which of the surveyed goods will be used for the promotion or sale transactions through securitization. They will enter that stage companies that anticipate the state money obtainable from privatization by issuing bonds on the market backed by the same assets for sale.ndita.
The country is for sale. It sells everything: residential, offices of entities, and maybe tomorrow the government and parliament, barracks and forts, airports and railway stations, land of the state property, beaches. Tremonti presented the sell-off plan as "the greatest securitization of a sovereign state and the larger issue of Abs (asset-backed securities) ever held in Europe. ' The property developers have managed to buy a piece of the country with a 35% discount on the initial price, the state has grossed less, the cost of fees, payment of directors etc. have been of 744 thousand euro and those needed to conclude the contract with some foreign banks to hedge the interest rate risk amounted to 2'5 million Euro.
The State Property Agency with the Directorate General for the Architectural Heritage and directed the Ministry landscape Giuliano Urbani began to examine a first list of twenty state-owned real estate in Lombardy, Lazio and Calabria, seven in the Milan area, seven to Rome, six to Cosenza. At yesterday's meeting was attended by the general manager for the Architectural Heritage, Roberto Cecchi, and the Director General of the State Property, Roberta Spitz architect. Also present were many supervisors and managers. According to rumors in the property which will for the first time appear to verify the modern House of Fascism in Vimercate and the nineteenth-century building in Rome Blumensthi.
L'albergo delle terme verso i privati ma il Comune lotta per i suoi diritti. Rischia di andare in fumo il progetto del Comune di San Giuliano di acquistare l'immobile dell'ex albergo delle terme di proprietà Inps, proprio nel centro della cittadina. La vicenda è intricata, ma la conclusione pare ormai scontata: il Comune molto difficilmente riuscirà a portare a casa l'acquisto, perché il ministero dei Beni culturali sta ritardando l'esercizio del diritto di prelazione del Comune. L'edificio, adesso fatiscente, dovrebbe divenire la nuova sede municipale. Messo in vendita dall'Inps è stato acquistato da una società di Milano. Il Comune, però, facendo valere la legge secondo la quale a parità di offerta un ente pubblico ha il diritto di prelazione, ha pensato quindi di partecipare all'asta offrendo la stessa cifra della società milanese. Il diritto di prelazione avrebbe consentito quindi all'amministrazione di ottenere l'immobile a patto che fosse destinato ad un uso istituzionale e non logicamente speculativo.
La risposta del ministro Roberto Castelli all'interrogazione a risposta immediata, question-time presentata dal deputato della Margherita, Andrea Colasio è stata molto chiara: «Il Castello Carrarese - ha detto il ministro - è nell'elenco delle strutture poste in permuta per realizzare nuovi istituti penitenziari destinati a sostituire quelli da chiudere in quanto non più idonei». Il Castello è in vendita. «Il ministro lo considera una vecchia prigione perché fino al 1991 - dice Colasio - è stato sede della Casa di Pena» «Si tratta, invece, di un pezzo prezioso e importante della storia della città: roccaforte di Ezzelino, palazzo dei Carraresi, i signori di Padova, carico di storia, splendido per architettura, con affreschi di pregio del Guariento, con spazi storici che il tempo e l'incuria stanno cancellando per sempre». r
Per il momento i pezzi pregiati non sono dunque monumenti, opere d' arte o palazzi storici, ma gioielli ambientali e paesaggistici. Sulle isole non c' è che l' imbarazzo della scSelta. Di Pianosa abbiamo detto. Ma senza spostarsi dall' arcipelago c' è anche la verde Giannutri. Per lo Stato è uno scoglio o poco più, valore contabile 368 mila euro. Pantelleria, Favignana e La Maddalena non si possono vendere in blocco come le isole toscane, ma a pezzi sì. Per esempio di Pantalleria si potrebbe acquistare Contrada S.Elmo (100 mila euro) o Punta Spadillo (125 mila euro), a Favignana c' è l' occasione di Punta Marsala (88 mila euro), mentre a La Maddalena si può optare per Punta Moneta (280 mila euro). Ma, sempre per la serie "vendesi isola", ci sono anche Nisida in Campania (2,3 milioni di euro), Marettimo in Sicilia (138 mila euro) e Gorgona in Toscana (3 milioni). Capitolo grandi città.
Capitolo grandi città. L' elenco della Gazzetta comprende soprattutto edifici pubblici, molti dei quali ospitano attualmente questure, ospedali e altri uffici pubblici. Ci sono persino le carceri. Quanto vale San Vittore? Per il carcere milanese siamo a poco più di 40 miliardi di vecchie lire. Ma non mancano stime più corpose: per Firenze c' è la stima di Lungarno della Zecca (13 milioni di euro), per Bari il Lungomare Nazario Sauro (5,7 milioni di euro). Quando poi si arriva alle pagine che elencano i beni dello stato a Venezia un brivido percorre la schiena a scorrere la quantità di calli, campielli e fondamenta che potrebbero finire in vetrina. Ma non fa meno impressione, nonostante le rassicurazioni del Demanio, il fatto che tutto, ma proprio tutto, potrebbe servire alla Stato per fare cassa a scapito delle norme più elementari di tutela..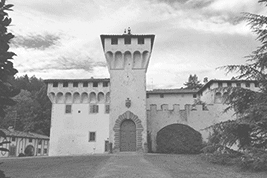 Fig. 1 - Medici Castle of Cafaggiolo, Barberino del Mugello. The historic Villa Medici and UNESCO site sold to the Argentine magnate Alfredo Lowensteind. An agreement between individuals and local authorities will upset the entire site: tourist development and new jobs, a 88 mega resort suites. The new project (private enterprise) conceived with complete housing units, reception, restaurant-bar, SPA-Fitness, rooms for events and meetings. The question whether it is not a tourist facility, but a mega-real estate speculation is in the project data. 170 mlioni di euro.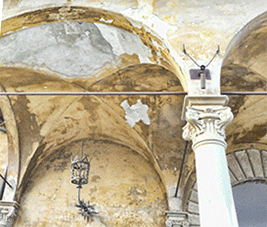 Fig. 2 - Villa Rusciano. Florence. The 'humanistic villa' of the Florentine Quattrocento, Brunelleschi attribution, still in 2016 for sale by the municipality of Florence with the intention to segment it with tourist accommodation. The price has dropped from 11.5 million euro to 7. An intended use and a design operation notoriously incompatible with the art-historical character of the building. Only the park will remain a public destination. 11.529.000 euro.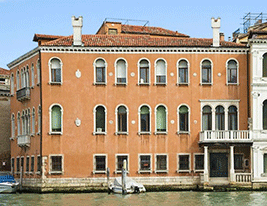 Fig. 3 - Ca' Cappello, Venice. Palazzo Cappello, Venetian-style mullioned windows. It is overlooking the Grand Canal, in "insula" the San Polo district. The property is on three floors plus a mezzanine. It features a private dock for boats. The interior of the building has preserved decorative elements of the 18th century and early 20th century. The property is currently occupied by a department of the University Ca 'Foscari.
Fig. 4 - Castello Nelson, Catania, on the border between the municipalities of Bronte and Maniace, former Duchy of Nelson and. the entire structure was the Abbey of Santa Maria di Maniace, the complex was built in the XII just as Benedictine Abbey. The grandiose monastery dedicated to Our Lady Queen Margherita remain the naves, a Gothic-Norman porch and the Byzantine icon, according to legend, painted by St. Luke.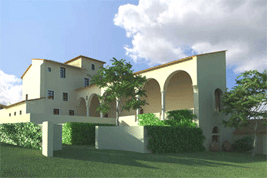 Fig. 5 - Villa Tolomei, Florence. property complex of considerable historical interest and scenic, subjected to restriction pursuant to Legislative Decree no. 490/99. Located on the hills of Marignolle, near Florence. 'Villa suburban' renaissance south of Porta Romana dating back to the fourteenth century. Building currently part farmhouse, with seven different buildings and the presence of the porch 'Michelozzo' of the mid-fifteenth century.On concessione di valorizzazione AD.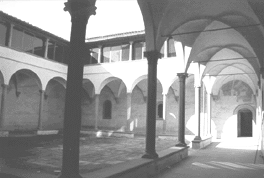 Fig. 6 - Costa S. Giorgio, Florence. The original structure of the convent of St. Francis of the century. XIII is still intact and includes a cloister with adjoining convent refectory and rooms. The arches are Michelozzi forms as evidence of a major renaissance restructuring. The building appears in homogeneous Zone F: equipment and facilities of general interest. Subzone F2: equipment and public services. Buildings of particular interest: price 15.529.858,96 euro.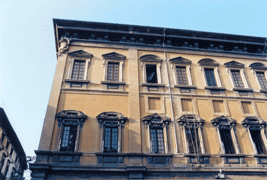 Fig. 7 - Palazzo Busetti, Reggio Emilia. A building of the XVII century., Important text of the Baroque Emilian with the facade made of paginated likely designed by Bernini. Started in 1657 as a home for the brothers Busetti of drawing (or inspiration) by Bernini, the palace was completed in 1674. Sold by the last heirs in 1751 to the Episcopal seminary, in 1796 passes to the Municipality of Reggio along with former adjacent Convent. In 1939 the INPS buys the Palace, demolishes the theater of the College and the adjoining former Convent Church to build new offices: price: 6.344.674 euro.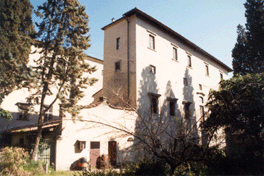 Fig. 8 - Ex caserma di Monte Oliveto, Florence. The monastery dates back to centuries. XIV, and it is located near the Park of Mount Olive grove near the city. The destination of the buildings is part of the "G" of the prg which includes public neighborhood facilities and, in particular, "G2E" subzone (equipment and services). The "Plan of Distribution of strategic functions and" cornerstones provides destinations, cultural-education-research and exhibition and congress-hotel-accommodation: price 2.262.080,00 euro.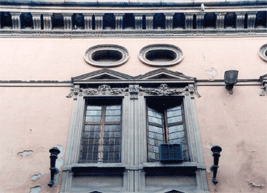 Fig. 9 - Palazzo Cassoli, Reggio Emilia. Original historical building of the '500, partly renovated in sec. XVII. It represents a significant episode of Emilian Mannerism. The opposite, full of decorations and stucco, requires special reading for the structured review of classicist dell'impaginato forms: from the precious twin window curtain consists of the flower stand: price Euro 1.179.459
Fig. 11 - Golfo Aranci Sardinia, a beautiful fishing village Golfo Aranci is located at the foot of Capo Figari high 340 mt. Its ancient origin is proven by the Sacred Well of Milis, located in the old colony near the station: price 135.234 euro.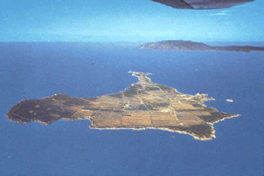 Fig. 12 - Isola di Pianosa, seat for more than a century of a penal colony which favored isolation, preserving her from tourism and from overbuilding, is rich in prehistoric archaeological sites. The findings of the 800 that occurred at the hands of Foresi R. and G. Chierici, have added new activities thanks to the activities promoted by the Soprintendenza: 8 milioni di euro.

Return the federal state property: tens of thousands of properties by the state to municipalities, regions, cities
Agosto 2013 Con il "Decreto del Fare" di agosto 2013 la procedura di federalismo demaniale viene velocizzata dando la possibilità alle amministrazioni pubbliche di richiedere l'acquisizione all'Agenzia del Demanio. Un valore di mercato stimato attorno ai 2 miliardi di euro. Si ribalta la vecchia procedura che poneva il Demanio nel ruolo di promotore. La valorizzazione degli immobili di pregio storico-artistico-culturale viene imposta mentre si scoraggia la svendita.

15 anni di privatizzazioni del patrimonio italiano, R. Benedikter intervista Salvatore Settis
Maggio 2011 Un working paper pubblicato sul sito della Standford University con un intervista esclusiva a Salvatore Settis direttore della Scuola Normale di Pisa. Un bilancio che parte dagli anni '90 con il centro-sinistra e compendia le scelte del governi italiani negli ultimi 15 anni con lo smantellamento dei beni demaniali fino a ipotizzare lo scenario del futuro e del nuovo millennio.

Sdemanializzazioni 2010: smantellamento dello stato in favore del profitto privato
Maggio 2010 Procede a marce forzate la grande epopea dello smantellamento dello Stato in favore del profitto. "Tutti i beni appartenenti al demanio marittimo e idrico" verranno dismessi dallo Stato, perdendo la loro natura di bene demaniale. Da anni è in corso la vendita del patrimonio immobiliare pubblico; Province e Regioni stanno procedendo alla vendita di importanti edifici storici di loro proprietà. Alcuni esempi: San Teonisto a Treviso, S. Clemente a Prato, il settecentesco palazzo d'Avossa a Salerno, caserma Gnutti a Brescia dal nucleo sei-settecentesco. Il decreto Calderoli prevede la sdemanializzazione e il passaggio agli enti locali, molto verrà gettato sul mercato senza garanzie di tutela.

Villa Tolomei: nuovo Resort extra lusso nei pressi di Firenze. Una ristrutturazione senza garanzie
Marzo 2009 L'immobile di proprietà demaniale è stato dato in concessione a privati per 50 anni al miglior progetto di riqualificazione e valorizzazione. Il case history di Villa Tolomei, dimora rinascimentale sulle colline di Firenze, le cui origini risalgono al XIV secolo, è primo esempio di immobile del patrimonio dello Stato su cui è stato attivato il meccanismo della concessione di valorizzazione. Partito il progetto di ristrutturazione, senza un rilievo architettonico e una ricerca storica sull'edificio con portico michelozziano.

Dopo quattro anni dalla patrimonio spa censiti trentamila beni immobili del Demanio
Novembre 2007 Completato il censimento del patrimonio immobiliare dello Stato che è stato presentato a Roma dal direttore dell'Agenzia del demanio Elisabetta Spitz del vicepremier Francesco Rutelli. Trentamila i beni censiti, di cui 20mila edifici e 10mila terreni. Il viceministro ha ricordato che «finora il patrimonio dello Stato é stato gestito in perdita ». Disponibile nel sito dell'Agenzia del Demanio solo un breve abstract del voluminoso censimento. Grave ritardo nella consultazione delle schede ufficiali e mancanza di trasparenza per gli operatori del settore.

Al via la vendita degli edifici del ministero della difesa. Sul mercato immobili per un valore di 1,3 miliardi.
Giugno 2005 Caserme, poligoni di tiro, fortini e casematte, persino un faro alle Isole Tremiti. Gli edifici saranno formalmente consegnati all'Agenzia del Demanio cui spetterà il compito di svolgere le procedure tecniche. Gli immobili entrano quindi a far parte del patrimonio disponibile dello Stato per essere assoggettati alle procedure di valorizzazione e dismissione di cui al decreto legge 351 del 25/9/2001. La Finanziaria tuttavia nega la prelazione degli enti locali per l'acquisto gli immobili. (In fig. Forte S. Sofia Verona)

Cartolarizzazione di immobili storici a Venezia centro storico, Murano, Lido e Torcello
Aprile 2005 Il Comune di Venezia informa che la fase di Cartolarizzazione degli immobili di valore storico è cominciata con il loro trasferimento alla Società VECART S.r.l.. La città lagunare batte sul tempo metropoli del calibro di Roma e Milano, e si aggiudica la palma del primo comune italiano che vara un'operazione di cartolarizzazione immobiliare, dopo aver creato un'apposita società-veicolo, la Vecart. Il patrimonio, su cui lancerà obbligazioni per un valore di 29 milioni di euro, é composto da 13 immobili. Strutture di pregio, dislocate sia nel centro la cui valutazione ammonta a 34 milioni.

Bilancio della prima fase d'asta, gli edifici già aggiudicati a prezzi inferiori al valore di mercato.
Marzo 2003 Sono già stati venduti Palazzo Correr a Venezia, un palazzo storico al centro di Palermo, e un edificio a Milano, costruito sulla zona dell'anfiteatro romano, mentre ancora invenduti risultano Palazzo Artelli a Trieste, la residenza termale dei Granduchi di Toscana a San Giuliano Terme, e Villa Manzoni a Roma. Firenze: hanno fatto appena in tempo a utilizzarlo come spazio per una mostra di arte contemporanea, avrebbe dovuto segnare il primo passo verso la trasformazione della ex Manifattura Tabacchi di Firenze in cittadella della cultura.